Great Bay Cools Florida's Beer With The Sun!
Great Bay Distributors 1.5 Megawatt system: Florida's Largest Commercial Solar Rooftop – 6/1/2015
Florida's Commercial Solar Power Leader
Pinch A Penny St Petersburg Adds Solar Power : Customer Testimonial
Commercial Photo-Voltaic Systems
Solar Energy Management is a leader in designing commercial solar Photo-Voltaic systems. Our goal is to help our commercial clients establish their energy footprint, assist in implementing energy saving technologies, and provide solar Photo-Voltaic solutions. This proven combination ensures that the financial numbers work and the return on investment is exceptional.
Solar Energy Management uses innovative techniques to design solar Photo-Voltaic roof mounted and ground mounted systems, as well as solar carports.
We attract the brightest talent in the solar industry with years of experience in the solar Photo-Voltaic field. Let our in-house team design your solar power system and energy efficiency needs. We work with you to provide the most cost effective solutions for your business.
Commercial Solar: Why Now?
There is no question; big (and small) business run up high power cost with a significant carbon footprint, impacting the environment along with the public perception of your company. Making the switch to solar energy now only makes sense. With years of research and testing, solar power now has high wattage panels that provide your business with clean energy and saving you long-term energy costs. Our customers buy solar power based on the Triple Bottom Line: People, Profit and Planet. The systems we design have short returns on investment. The federal Investment Tax Credit for solar power is at its maximum and the cost of solar has dropped significantly making this time the best time for commercial solar power for commercial buildings.
Solar Energy Management understands switching from conventional energy to a solar powered system can seem like a big investment. But, investing in solar energy now means taking advantage of incentives being offered by the Federal government, reducing the actual cost significantly. This makes the switch to solar-powered energy a smart choice. For example, the U.S. government is currently offering a very generous investment tax credit and a MACRS depreciation for installing a solar-powered energy system; this allows for your company to reduce and levelize your power cost. Solar Energy Management team has over a decade of experience in commercial solar power. Let our team design a system for your business.
Superior Solar Design & Innovative Technology
Solar Energy Management's commercial solar power systems offer our clients superior designs and innovative technology. Our solar power system designs achieve great returns on investment for our clients. We help companies reach the goal of the Triple Bottom Line: people, profit and planet.
Superior solar power solutions such as Canadian Solar with built in Optimizers and Solar Edge Inverters with 20 year on site warranties (see link to PDF on Solar Edge)
Integrated solar roof systems – saving 30% off the cost of a new roof membrane
Elevated galvanized steel racking system – greater strength and lower cost per watt
Solar car ports (locally manufactured) – exceptional return on investment

Solar Energy Management differs from most commercial solar power designers in that we help our commercial clients establish an energy footprint of their structures, assist them in implementing proven energy savings technologies such as building controls and provide unique innovative solar power solutions. All with an eye towards making the financial numbers work. We offer best in class solar power panels an Solar Edge inverters warrantied up to 20 years for low cost of ownership.
Proven Leader – Great Bay Distributors
Solar Energy Management helped design the largest commercial solar Photo-Voltaic system in the state of Florida. This 1.5MW system for Great Bay Distributors has reduced energy consumption by over 80%
Assist client in reducing energy footprint, saves money on solar power
Innovative racking system reduces cost
US made Solar Panels and Inverters
80% reduction in energy needed
Short return on investment
Integrated Solar Roof Systems
Distributed Load Attachment Systems, such as those utilized at the SunTrust building, was the first in the State of Florida. These systems are available for all leading commercial roof systems, such as Bitumen, TPO, Tar and Gravel, and Metal. Benefits include:
Integrated Solar Roofs Provide 26% off New Roof Membrane Costs
Reduce Your Energy Bill or Eliminate It
Take Advantage Of 26% Federal Tax Incentives for Solar Power
Levelize Energy cost for 25 years
25 Year Warranty on New Roof and Solar Power System
Customers Include: SunTrust, Agora Leather, First Housing, and Medallion Homes HQ
Designed For Florida to Meet Wind Codes
Put Your Roof To Work Paying Your Energy Bill and Taxes!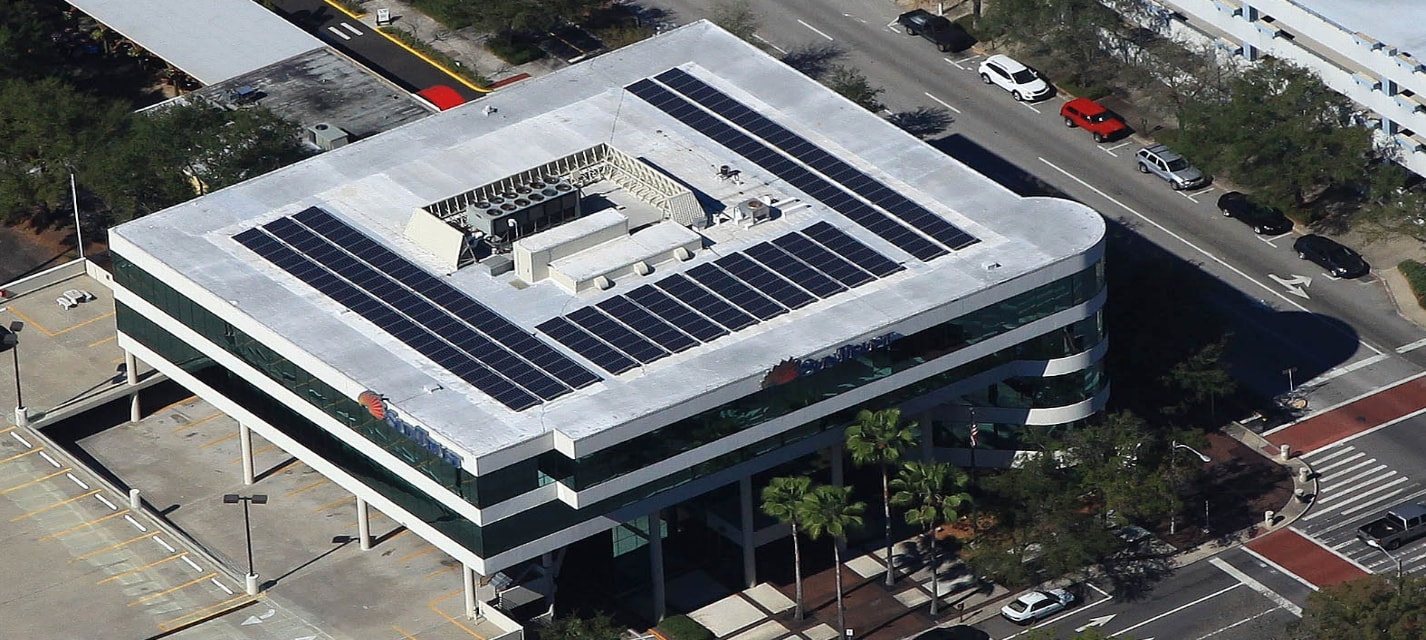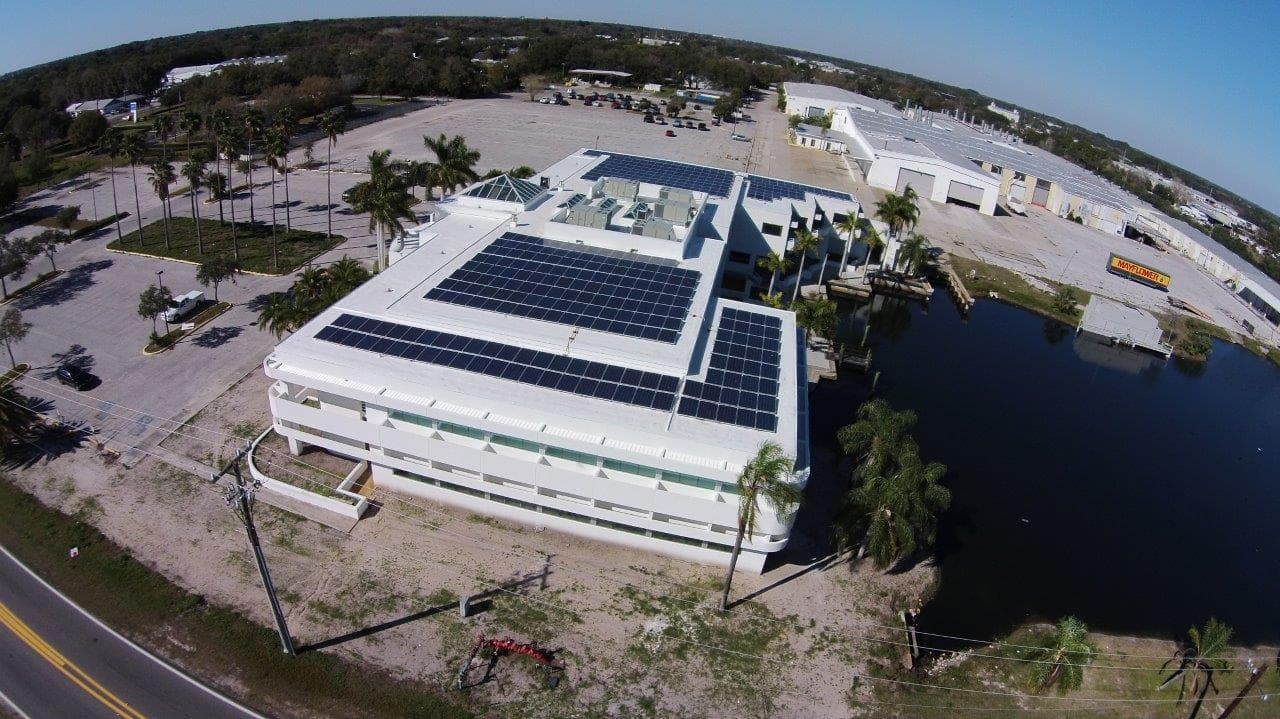 Medallion Homes HQ Integrated 100KW Solar TPO Roof System Sarasota, Florida
Integrated Adhered Ballasted Solar Power System
Casa 130KW Integrated Adhered Ballasted System
No Roof Penetrations
Maintains Roof Warranty
Rated to Hurricane Code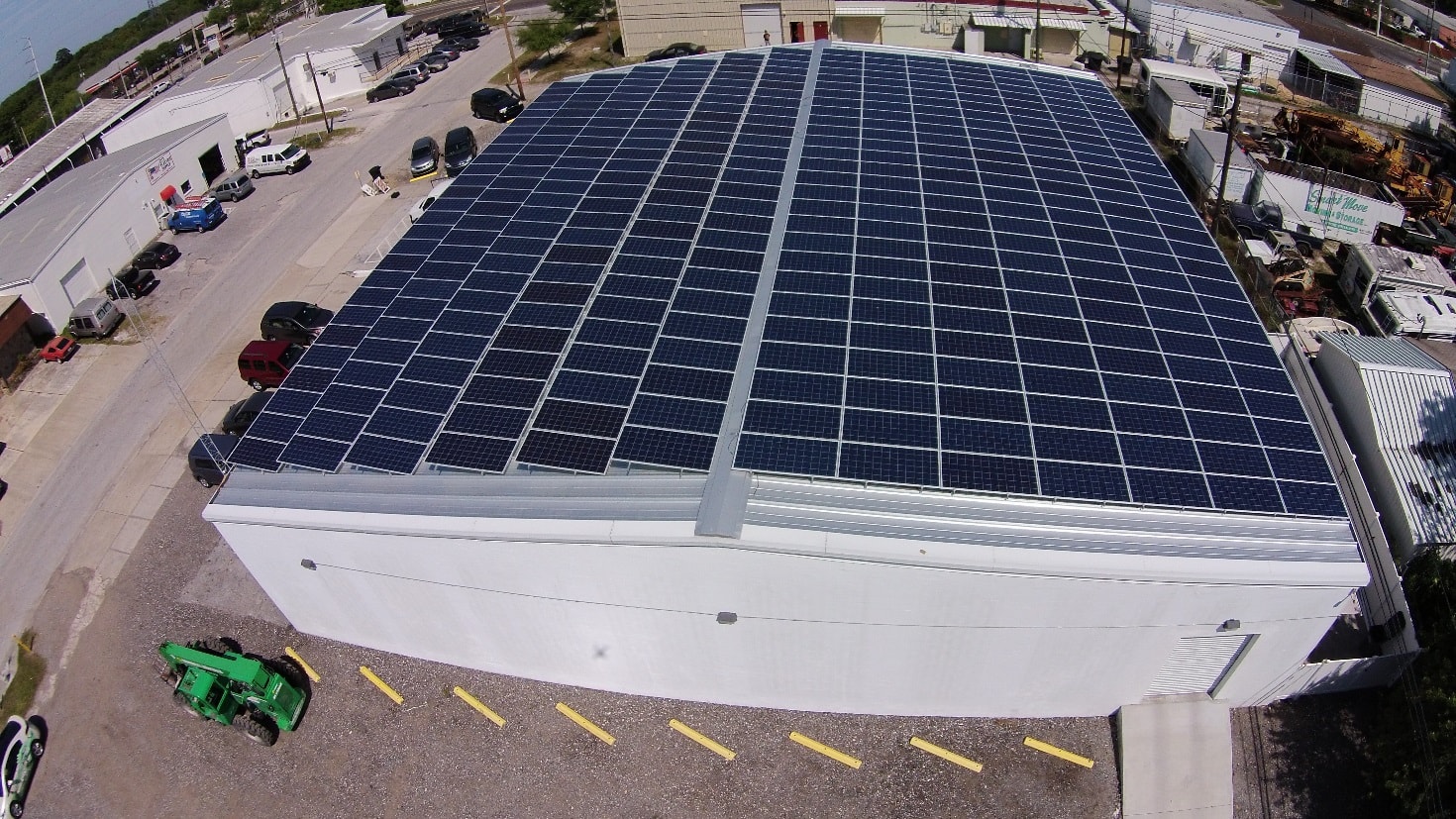 Agora Leather Corp. Integrated 100KW Solar Metal Roof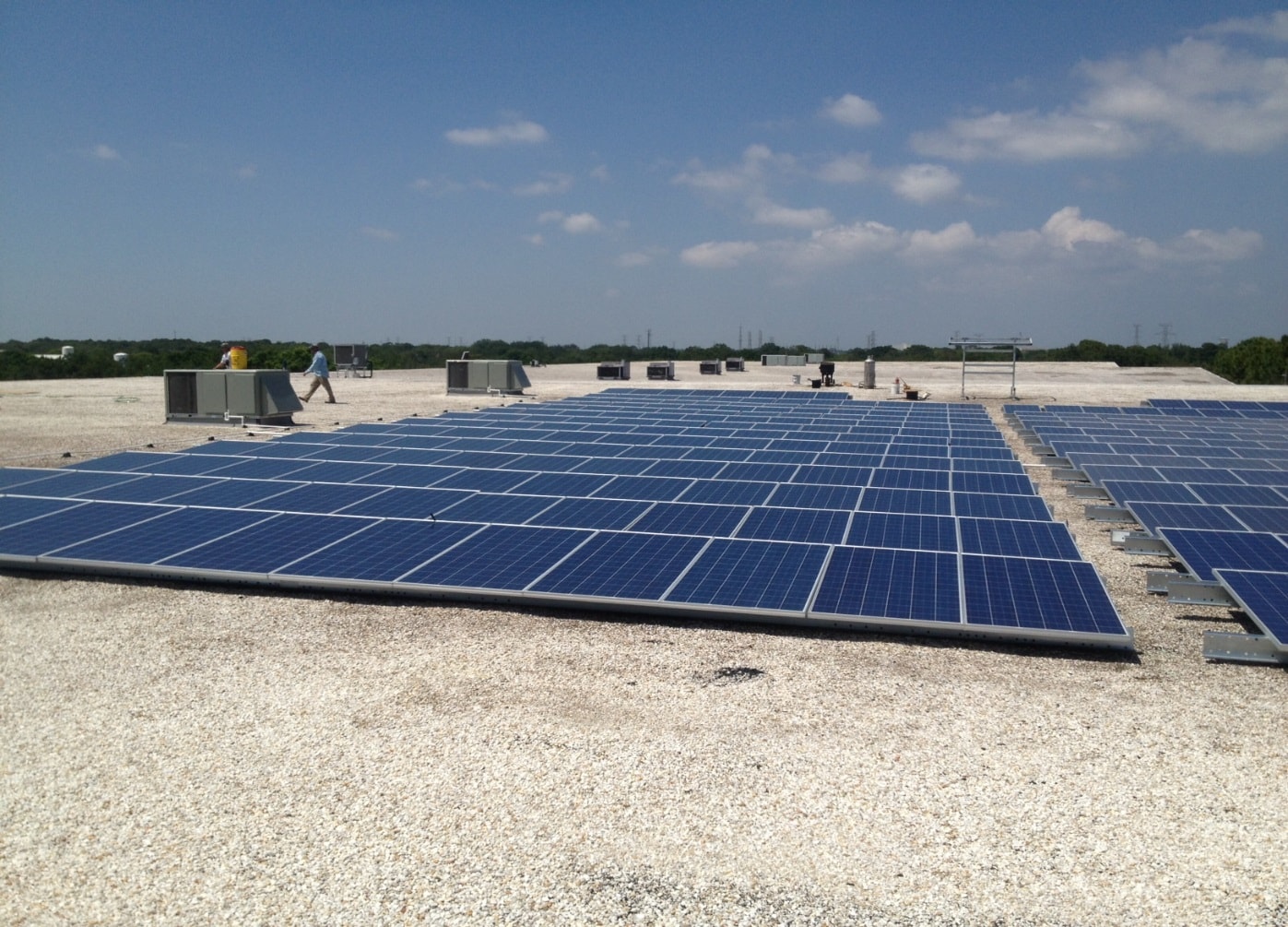 Stevens & Stevens Business Records Mgmt. Integrated 100KW Tar & Gravel Solar Roof

First Housing 17,000 Sq. Ft. HQ to Zero Energy: Steps to Zero Energy
Building energy analysis: Upgraded building controls, LED lighting upgrade
Integrated 45 KW TPO Roof
100 KW Solar Car Port
Commercial Structure Steps To Zero Energy
Step 1. Establishing a Structure Energy/Utility Cost Footprint per square foot
Our team does a site visit to your commercial building to establish a current energy/utility cost per square foot. We will ask you for two years of power and gas bills.
Step 2. Energy Plan to lower per square foot cost of energy
Our team will meter and study each aspect of your building
Step 3. Present a detailed solar power design including financing
Our team will present the detailed commercial energy reduction plan to management.
Most all of our solutions offer a short ROI and they address the Triple Bottom Line (People, Profit and Planet)
Step 4. Implement the commercial structure energy reduction plan
Microgrids are cost-effective solutions to lower your overall energy cost and improve your resiliency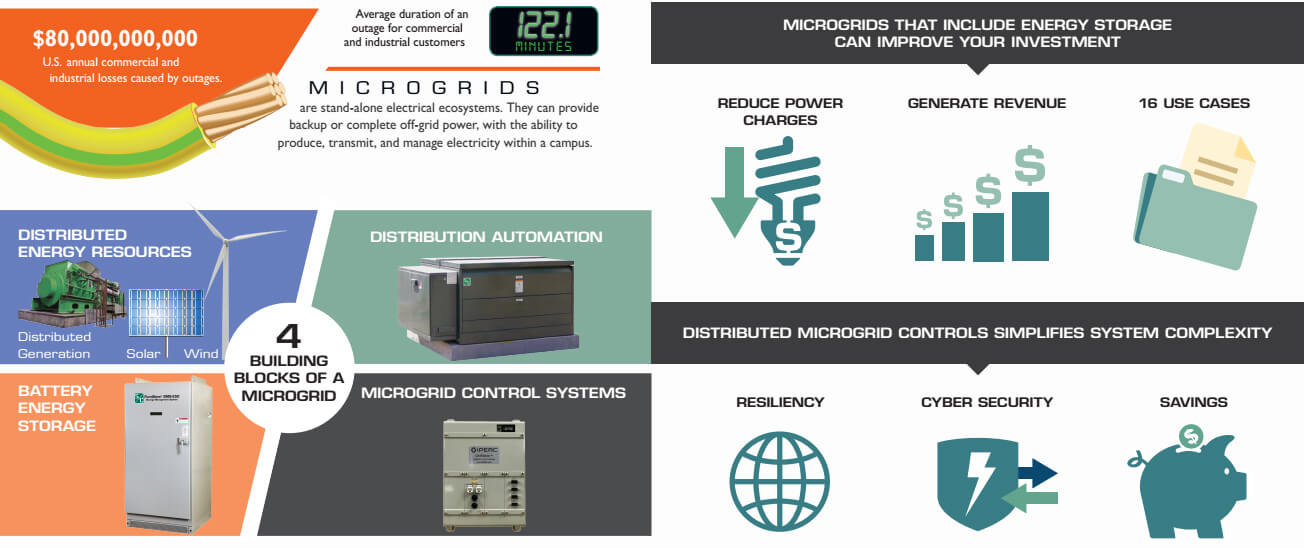 Utility and Caribbean Commercial Solar Power Systems

Grenada Utility Grenlec solar power
Solar Energy Management is the leader in utility scale and Caribbean solar power system designs. Our clients include, WRB Energy a division of WRB Enterprises and Grenlec the island of Grenada's utility. We differ from other solar designers working in the Caribbean in that we offer our SEM Shared Solar Savings program which provides select clients the ability to buy solar panels and inverters direct from the manufacturer at cost. We work as a team member with the client to insure exceptional return on investment.
Solar Energy Management differs from most Caribbean commercial solar design firms in that we help our Caribbean commercial clients establish an energy footprint of their structures, assist them in implementing proven energy savings technologies and provide unique innovative solar power solutions. All with an eye towards making the financial numbers work. We offer best in class solar power, inverters and solar car ports coupled with innovative engineering designed for the Utility and Caribbean client with great return on investment.
Caribbean Commercial Integrated Solar Roof Solutions designed for the Caribbean
Unique Caribbean commercial solar power solutions including our DLAS, distributed load attachment systems such as our hard foamed in attachment system utilized at the Suntrust building (50KW solar power system).
Wind lift tested to over 200 miles per hour.
No Roof Penetrations
Commercial TPO Solar Roof Attachment System designed for the Caribbean
Solar Energy Management further differs from all other commercial solar power consulting firms in that we have designed the Integrated Solar Roof system's designed for high wind and water environment's like Florida and the Caribbean. The Integrated Solar Roof systems are available for all leading roofing systems including: SPF Roofs, TPO, Metal etc.. SEM also offers ground mounted systems and cost effective pre-fab galvanized steel solar car ports.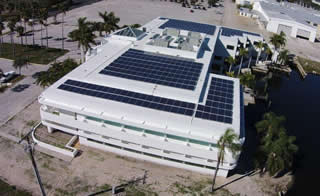 SOLAR ENERGY MANAGEMENT, LLC
Summary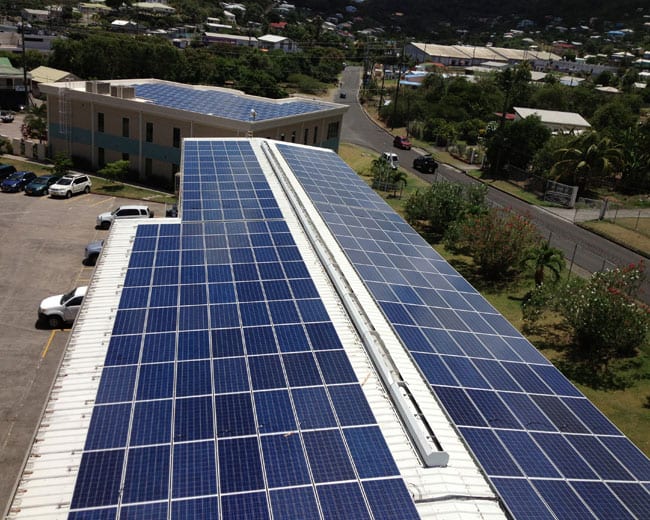 Service Type
Provider Name
Solar Energy Management
,
3135 22nd Ave. N,
,
St Petersburg
,
Florida
-
33713
,
Telephone No.888-529-0070
Area
Description
Commercial Solar Power -888-529-0070 - Solar Energy Management can provide commercial solar energy solutions for your business providing a path to a zero energy building or business! Call us today.