Jacksonville, Florida Commercial Solar Power Systems
Jacksonville Commercial Solar Foam Roof Solutions designed for Florida
Commercial TPO Solar Roof Attachment System designed for Florida
The distributed load attachment system is engineered for a TPO roof. The TPO DLAS does not penetrate the roof, rather we work with our roofing partner to heat seal a pad and U anchor to the TPO roof which the solar stanchions lock to.
Wind lift test exceed Florida code requirement
No Roof Penetrations
The distributed load attachment system utilizing TPO Roof qualifies for the 30% tax credit off a TPO roof and the solar power system, offering an exceptional return on investment.
We are is the first Solar Consultant in Florida to design a commercial distributed load system.
Solar Energy Management LLC is leader in innovative commercial solar power solutions in Florida and the Carribbean.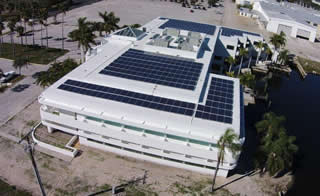 Solar power and energy efficiency experience:
Taking the First Housing Corporate 17,000 square foot building to zero energy.
Great Bay Distributors 280,000 square foot refrigerated distribution center where our 1.5 MW solar array has reduced over 92% of the energy needs of the building.
Our team has the experience and knowledge to help take your building to zero energy.
Full Service All-in-one service provider, including custom design, financing and monitoring.
Integration and updating of building controls to open system controls.
Single point of contact and accountability for your system throughout the life of your system.
In-house professional team of solar designers.
We've attracted the brightest talent in the solar industry with years of solar experience.
Several financing options available for our clients.
Each tailored to the specific financing need of the client.
See financing tab for more information.
Reputation
We use only best-in-class solar equipment.
Over 80% of our business is generated from client referral.
Regionally sourced, highest efficiency solar panels and best-in-class inverters utilized.
BBB accredited business.
Zero Energy experts with extensive knowledge in the solar energy field to ensure your system meets our highest standards.
Full Service
All-in-one service provider, including custom design, financing and ongoing system monitoring.
Integration and updating of building controls to open system controls.
Single point of contact and accountability for your system throughout the life of your system.
In-house professional team of solar designers. We've attracted the brightest talent in the solar industry with years of solar experience.
Several financing options available for our clients. Each tailored to the specific financing need of the client. See financing tab for more information